TEMPEST INC.- >TEMPEST and EMC Products.-> Model NA-200/2G Rugged Log Periodic Antenna 200 MHz -2 GHz.

CONTACT US

HOME- PRODUCTS- SERVICES- FACILITIES- BOOKS- COURSES- SOFTWARE-

This antenna is available to all customers.

********************************

[ Front view of black triangular antenna on a tripod. ]

MODEL NA-200/2G LOG PERIODIC ANTENNA
Specially designed for shielding effectiveness testing.

The NA-200/2G is a ruggedized log periodic antenna that is specially designed for on-site testing in rugged environments, such as construction sites.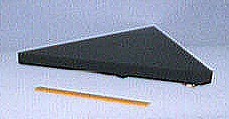 [Photo of left side of the antenna compared to a 1 foot ruler.]

Covering the 200 MHz - 2 GHz frequency range, the NA-200/2G
is the next generation of our highly successful
model NA 400/1G which has been in constant field use for
over twenty years.

These rugged, inexpensive antennas come with:
a male sma connector and a removable sma female adapter;
a 1/4-20 mounting socket for tripod mounting; and
a unique broomstick adapter which allows you to reach and test
difficult places, like the ceiling of a shielded room,
EASILY and SAFELY.
The NA-200/2G is water resistant and COMPLETELY INSULATED.

This PROTECTS YOUR TEST EQUIPMENT from damage caused by:

* ELECTROSTATIC DISCHARGE: When someone inadvertently touches the elements
of most antennas, this can deliver an electrostatic discharge pulse of
10,000 Volts or more right into the front end of your spectrum analyzer.

* DIFFERENT GROUNDS: If a shielded room or a nearby device
happens to be on a ground that is different from that of your test
instruments, accidentally bumping most antennas against that room or device
can deliver a steady, destructive 60 volts a.c. into your
amplifier or spectrum analyzer.

THE NA-200/2G PROTECTS AGAINST THESE HAZARDS,
and saves you the cost and time needed to
diagnose and repair your expensive instruments.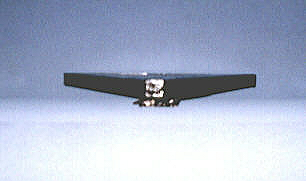 [Front view of the antenna.]



The NA-200/2G is compact, rugged, innovative,
and highly directional.

It is a great alternative to the traditional antennas
used in electromagnetic interference and TEMPEST testing.

It is ideal for:
* troubleshooting denial of service problems;
* troubleshooting electromagnetic interference problems;
* troubleshooting cell phone problems;
* all types of on-site, outdoor, and field testing.

For laboratory testing, the NA-200/2G has this advantage:
Since it is virtually impossible to disturb the antenna's elements,
THE NA-200/2G HARDLY EVER GOES OUT OF CALIBRATION,
This enhances the reliability and repeatability of your measurements,
even well after an annual calibration.

The NA-200/2G has the following typical characteristics:
WEIGHT: 3 1/4 LBS.
LENGTH: 18 INCHES
WIDTH: 19 INCHES
THICKNESS: 1 1/4 INCHES
THICKNESS OF BASE: 1 1/2 INCHES
CONNECTOR: SMA MALE WITH REMOVABLE SMA FEMALE ADAPTER

TYPICAL ANTENNA FACTORS at 3 meters:
200 MHz: 20 dB
300 MHz: 12 dB
400 MHz: 12 dB
500 MHz: 8 dB
600 MHz: 7 dB
800 MHz: 8 dB
900 MHz: 10 dB
1.0 GHz: 10 dB
1.1 GHz: 10 dB
1.2 GHz: 9 dB


The NA-200/2G is:
* A reliable, proven design;
* Readily available;
* Expertly and responsively supported; and
* 100% MADE IN U.S.A.




TEMPEST Engineering | TEMPEST Design and Manufacturing | TEMPEST Testing
TEMPEST Training



Our TEMPEST-secure products and TEMPEST engineering services are only available to the US Government and its contractors. others require US Government approval in advance.

Subjects: TEMPEST, emi-emc,testing, antennas, shielded enclosures, shielded rooms, shielding effectiveness tests. SCIF, emsec, infosec, C4ISR